SENIOR RESOURCE NETWORK
Senior Resource Network provides aging information and referrals to connect older adults with community services and resources. With nearly 70% of people over 65 needing some form of long-term care services and support, we believe it's best to have a plan in place before a crisis occurs.
JFS Senior Resource Specialists will:
• Connect you to professionals who provide in-home services, including health care, home maintenance and modifications, nutrition, and transportation to help you or your loved one successfully age in place.
• Provide you with information on community and behavioral health
services and caregiver resources,
including respite care and long-distance caregiver support.
• Educate you on long-term care options, including independent living, assisted living, rehab and skilled nursing facilities.
• Provide an outline for gathering documentation, including financial,
medical, legal and advance directives.
If you would like to participate, please complete the following:
JFS Application for Services – Please complete online, one application per person.
JFS General Release Form – Please email to us. Adobe Reader has a "Fill & Sign" tool that allows you to add text and signatures for free.
Contact JFS for more information or to schedule an appointment: 518-516-1106
OCCUPATIONAL THERAPY FOR LIFE ENRICHMENT
Today's seniors enjoy living at home and maintaining their independence. Setbacks like unplanned surgery, illness, a fall, loss of a spouse, or simply aging, however, can cause a once-happy senior to become isolated and feel a lack of purpose. OT for Life Enrichment supports opportunities to participate in meaningful activities, providing any necessary adaptations to promote a sense of purpose and accomplishment.
This program is near and dear to our Life Enrichment Specialist, Nanette Brenner, OTR. Read how she conceived of the program and its importance in promoting wellness.
If you or your aging parent or spouse:
• lacks energy or interest in activities outside the home
• has physical or other limitations that prevent participating in activities or hobbies
• spends much of the day isolated
JFS can help.
Reclaim a Zest for Life
Through an in-home visit with a homebound senior, JFS therapists will:
• Review physical, mental, and social activities to understand strengths and limitations.
• Explore small adaptations that can improve daily function.
• Set goals and identify tools to uncover joy and purpose.
• Help overcome barriers to make activities meaningful once again.

Here's an example of what we can do: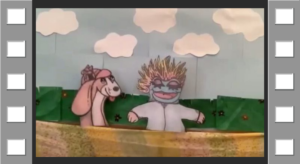 This video was produced as a therapeutic activity to allow Ros, a former puppeteer, to reminisce and share memories of one of her cherished jobs. After receiving a variety of services from JFS, and wanting to show her appreciation, Ros wrote her own script for a puppet show. The Occupational Therapist recorded the production using puppets that looked like the original. The puppet theatre and recording took place in the therapist's home while Ros created their voices over the phone due to COVID precautions.
If you would like to participate, please complete the following:
JFS Application for Services – please indicate what Support Group you would like to attend
JFS General Release Form – please complete and email to nbrenner@jfsneny.org
Contact JFS for more information or to schedule an appointment: 518-482-8856

COUNSELING
As a person ages, it is important to have support. Significant changes can have a major impact on attitude, energy levels and mental health. These changes and life adjustments can include retirement, a move to a new setting, changes in one's own health, and death of a loved one.
Counseling with a skilled clinician who specializes in issues relevant to older adults can help individuals identify, understand and work through their emotional responses to major life transitions.
Click here to schedule an appointment today!
Additional Services for Seniors:
PROJECT FIVE
JFS has trained volunteers who will drive Jewish seniors to and from destinations in the Capital Region. Learn more about this valuable service here.
NNORC
NNORC is a Neighborhood Naturally Occurring Retirement Community that helps seniors maintain their independence by remaining at home. This unique program offers a range of social and supportive services to people living in the NNORC service area. Learn more about this invaluable service here.