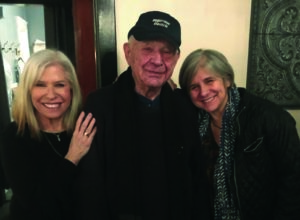 As part of the 2nd Annual Mensches & Mimosas celebration on May 23, 2021 at 11 a.m., JFS will recognize Herman Mendel Ungerman with the Anschel Weiss Community Builders Award for his commitment to serving humanity with humility and for acting as a role model for future generations.  This is evident by his loving family, who continue to carry on the legacy of philanthropy.
A native Albanian with a rich commitment to family and community that spans throughout his years, Herm is the epitome of a community builder, supporter and champion. A mensch among mensches, when he was informed of the honor, he remarked that what he was most proud of was that his children had continued in his footsteps. JFS is proud to honor him for his lifetime of service and dedication.
His many leadership positions are inspiring and include serving as board president of Congregation Beth Abraham Jacob (three times); the Jewish Federation of Northeastern New York, Jewish Family Services of Northeastern New York, and Daughters of Sarah Senior Community.
Herm graduated from Philip Schuyler High School in 1949 and started working as a teen and worked as a soda jerk (his description) and a number of other jobs. As a man who understood the value of sharing his earnings, from a young age Herm ensured that his ever-so-proud momma, Bessie Ungerman, was always well-cared for. He served in the United States Navy during the Korean conflict and then married his Hebrew school classmate, Devera (Deb) Proskin Ungerman (z"l) — together they raised their two daughters, Susan Ungerman and Michelle Sanders. He subsequently formed and operated his own electrical contracting business — Herm Ungerman, Inc.  In 2006, he retired, passing the baton to his son-in-law Gerard Bobersky, and his daughter Susan. When Gerard tragically died 3 months later, Herm, the consummate mensch, understood the need for his continued involvement and postponed his retirement plans for himself (as did his beloved wife) in order to help his daughter and grandchildren navigate the traumatic event and aid Susan's corporate leadership.
Herm and Deb were married for 60 years. For them, there was nothing that took precedence over their children and seven grandchildren. With all his "after school events", Herm, most commonly known at home as Mendel, was faithfully home for dinner every night. He was, and continues to be, a dedicated son, brother, husband, father, and grandfather.
Herm celebrates his 90th birthday on May 19, 2021 and it seemed only fitting to grant him another award for his outstanding leadership, acts of kindness and commitment to building our community. In addition to the leadership roles listed above, Herm also served on the boards of: Hebrew Academy of the Capital District; the Albany Jewish Community Center; Parsons Child and Family Center (Northern Rivers); United Way of Northeastern New York; the Chapel House Interfaith Center at SUNY Albany; the Leukemia and Lymphoma Society of America; the Albany Senior Service Center Foundation; Hope House; and Jewish War Veterans Post #105's Executive Committee.
He has been the recipient of numerous awards, including and with his wife Deb (z"l) the JCC Pillars Award; Leukemia Society Man of the Year Award; the David Ben-Gurion Israel Bonds Award; the B'nai B'rith Covenant Award; the Hope House Recognition Award; the Four Chaplains Brotherhood Award; a Fifty Years of Dedicated Service to Our Community Award and a Communal Recognition Award from Yeshiva University. Receiving the JFS Anschel Weiss Community Builder's Award from is the icing on his huge cake.
Past recipients of this award include David Alan Miller, Jean Becker, Amy Klein, Fred Erlich, Mara Ginsberg, Chanie Simon, Rabbi Beverly Magidson, The Golub Family, Jerry & Ilene Sykes, Michael Castellana, Steve Lobel, Morris and Esther Massry, Dr. Mark Sullivan and Representative Michael McNulty.
Join us for our virtual celebration of Herm and 23 exemplary mensches from 20 area organizations on May 23, 2021 at 11 a.m.

A complete list of honorable menschen is here. Sponsorships, Honorary Committee and tributes are available here or by calling 518-482-8856.