When:
2023-05-03T16:00:00-04:00
2023-05-03T16:15:00-04:00
Where:
First Congregational Church
405 Quail St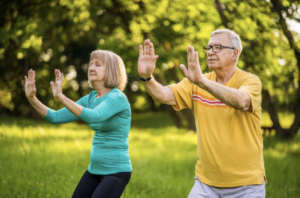 Join us for an introduction to Tai Chi! Described as "meditation in motion," this gentle martial art can yield so many benefits including improved balance, flexibility, fall prevention and muscle strength. This evidence-based program is endorsed by the CDC and is accessible to all levels of physical ability. Featuring slow, controlled movements, Tai Chi is a relaxing and effective antidote to stress and anxiety.
No special clothes or equipment are needed for tai chi. Wear comfortable clothing that allows free movement (like what you might put on to take a walk) and comfortable, flat shoes (sneakers are fine; flip flops or high heels are not!).
Bio:
Kate McKee lives in the NNORC neighborhood and has been a student of Tai Chi for 20 years. She is a Master Trainer for the Tai Chi for Health Institute and a partner at the Asian Arts Group Tai Chi Center in Albany. Kate enjoys teaching Tai Chi and especially likes teaching people who are new to this form of movement. She is a retired psychologist who has reached the age in life where she only does activities that she enjoys.
Please contact NNORC to register: 518-516-1114 or nnorc@jfsneny.org