When:
2023-05-11T12:00:00-04:00
2023-05-11T12:15:00-04:00
Where:
APL's Bach Branch
455 New Scotland Ave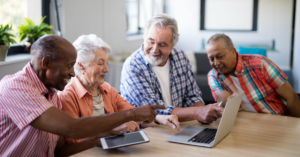 Do you get confused about your tech gadgets? Your fellow, tech savvy NNORC neighbors are here to help you become adept at using your computer and/or navigating your devices. We'll get you surfing the internet, sending text messages, browsing Facebook, emailing your family and yes, even taking and sending photos! Appointments are required. Please reserve your spot at 518-516-1114 or nnorc@jfsneny.org. On the day of the program, please bring your fully charged device (tablet, phone or laptop) along with any questions you may have.
Please contact NNORC to register: 518-516-1114 or nnorc@jfsneny.org