This year's JFS Mensches & Mimosas virtual celebration honored 30 unsung heroes from the Capital Region, who were nominated by partner organizations from the Jewish community for their selfless dedication and leadership. As part of the celebration, Alan Iselin received the JFS Anschel Weiss Community Builders Award for serving humanity with humility.
The virtual celebration included pre-recorded videos of the Honorable Menschen who answered, "What inspires you to be a mensch?" Honorees shared inspiring tales of their organization's members, leadership and of their volunteerism being passed down from their parents, "It was the Jewish values instilled in me as a child," said Melanie Hecker from Congregation Ohav Shalom in Albany. Mark Koblenz from Daughters of Sarah Community for Seniors spoke about their mensch nominee Neil Manasse who embraces the organization's core values: honoring your mother and father and performing acts of loving kindness. Ruth Facher Mendel (Congregation Beth Emeth) was interviewed by her daughter Lisa Finkle to whom Ruth passed down the tradition of serving.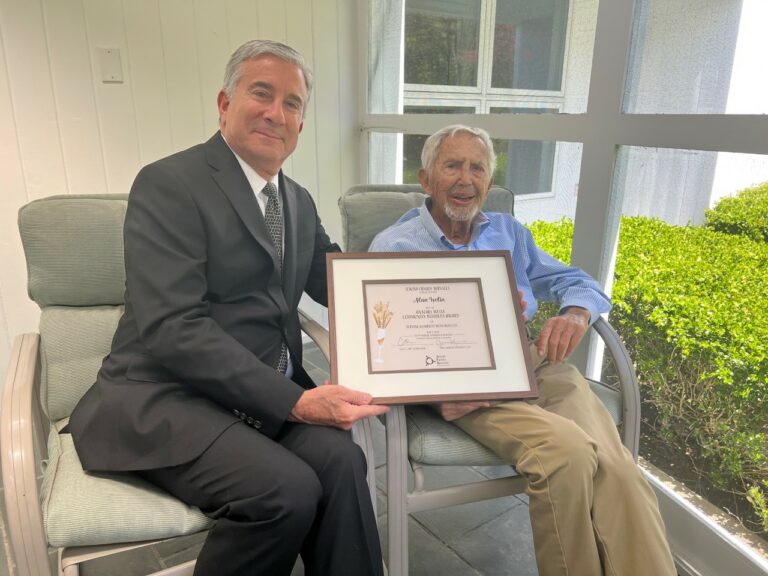 Rabbi Scott Shpeen (Congregation Beth Emeth, Albany) presented Alan Iselin the JFS Anschel Weiss Community Builders Award commenting on Alan's years of leadership in the Albany Jewish community, greater Capital Region and nationally. In accepting the award, Alan Iselin, a JFS board chair in 1966, said he is "dazzled" by the services at JFS and the breadth of their coverage. "This organization has grown, it has added services, and continues to be a wonderful [resource] for the community," said Iselin.
Several JFS service recipients shared their gratitude to JFS. Rosyln Foote commended JFS Project 5 for giving for helping her maintain her independence by giving her private rides to appointments. Steve Lobel recounted how the JFS Senior Resource Network provided critical resources and support so that he and his sister could move their mother from Florida to Albany after some serious health issues. Lenore Kesten expressed her appreciation for receiving kosher home delivered meals, particularly because she can no longer prepare her own meals.
"Monies raised from Mensches & Mimosas help support and grow JFS services that are provided regardless of an individual's ability to pay," said JFS president & CEO Jane Ginsburg. "It is through the generous philanthropic support from our community that helps our programs, and in turn our community, thrive." JFS support groups, grocery and meal delivery, and senior adult services are just some examples of programs that are provided at little or no cost to recipients.
Here's where you can watch this year's celebration:

Many Thanks to Our "M&M" Supporters! View them here!

You can still support our honorable menschen and JFS.  Proceeds from this event help support and grow the free services we provide to our community.
Click here to use our online form,
Click here to print a pdf form, or

Call JFS to process your credit card via phone: 518-482-8856
If you have any questions, please call Monica Tan at 518-516-1104 or email mtan@jfsneny.org.
See a list of past Honorable Menschen
here
.